I know I've been on Madewell overload lately but you guys are just going to have to deal with me! :) It'll be over after September once I go to the Alexa Chung Madewell event and get it all out of my system by emptying my bank account there. Not to worry, too, I'm in the midst of some good things to post about soon like a DIY, a guest blog, and some more insight into me (like my obsession with books--I AM a fiction writer after all-- postcards, etc.)
Anyway, the very first ever Madewell catalog came for me in my mailbox today. It's beautiful! I love how oversized it is. When you have it opened in front of you it's almost like a newspaper. :) If you guys want, I can do some scans? In the meantime, here are some pictures of me sitting by the pool tonight at J's mom's house, while J did some jumps and kick-flips with his water-skateboard (no, not a surfboard).
I came from work so I'm still wearing head-to-toe American Apparel. I didn't do an outfit shot cause it was getting dark, but you can see I'm wearing the Round Collar Lawn Button Up. Forgive the poor picture quality, I snapped these on my Macbook Pro Photo Booth.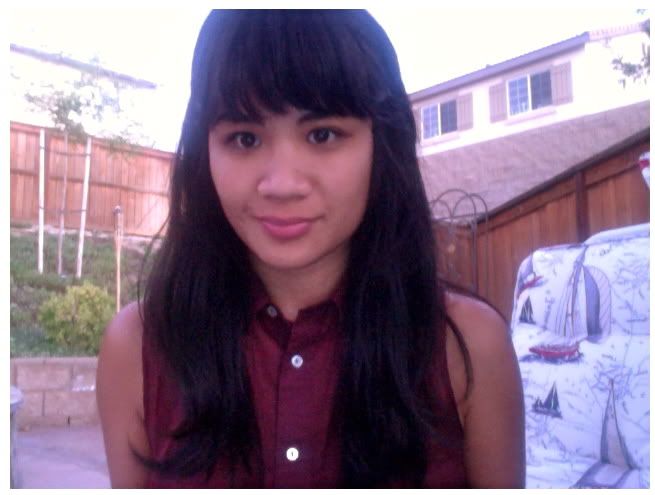 What you can't see is that I'm also wearing the Knit Pencil Skirt. And on the table are the shoes I wore, my faithful fringe loafers. They're on the table because a mischievous frenchie loves chewing on 'em. As a conciliatory gesture for not doing an outfit picture, I present to you my manatee friend, who loves Madewell just as much as I do. :)