Hey guys! So I just got a new t-shirt at work and I'm super glad that tees are the new big thing (Doesn't that sound weird? t-shirts are always in, right? But apparently, fashion is telling us that tees are in NOW). I'm really a huge tomboy at heart so I can't wait to be able to incorporate the easy peasy style of a casual t-shirt into more fancy ensembles like these pleated pants in the pictures below, and skirts as well, especially midi length. I also love that there's a cat silhouette in this particular one, along with the Manhattan skyline. Meow!
t-shirt:
American Apparel
high waist pleated pants: also
American Apparel
loafers: thrifted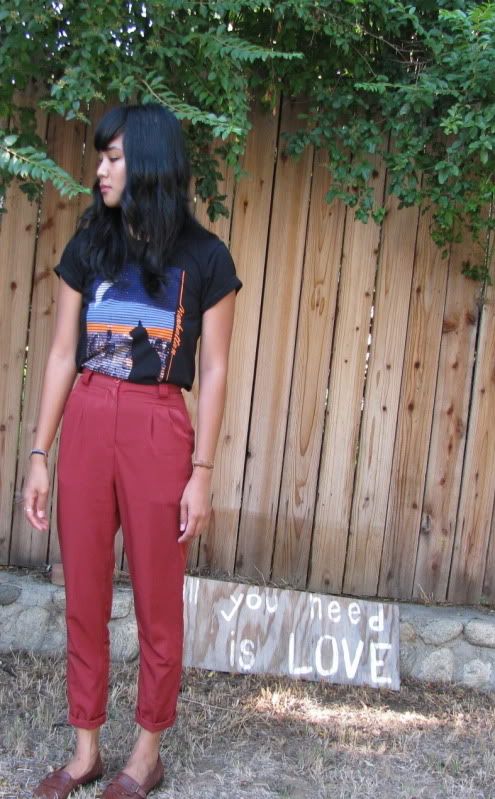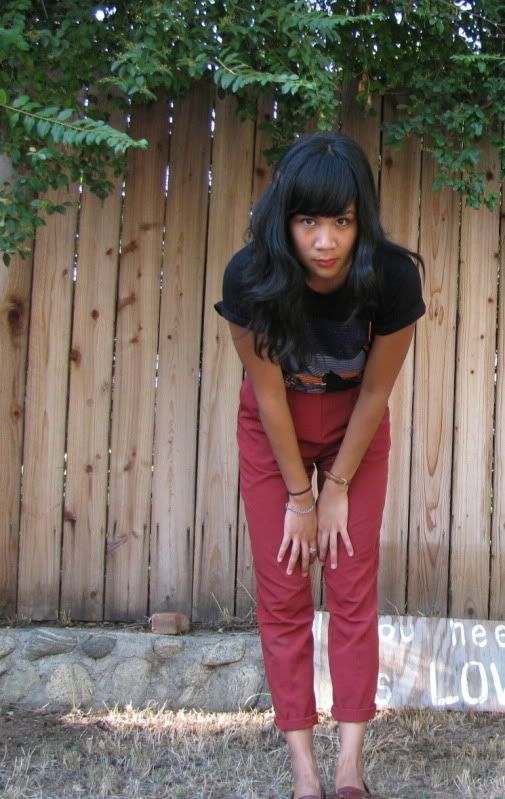 I'm planning on doing the t-shirt + skirt combo a lot this fall. This
Sailboat tee
from Anthropologie and
this other one
from Madewell are on my list.
Up at the top of this post is a picture of me and J sitting in front of our house at the tree stump table, which is probably my favorite part of the house, although there's way too much to choose from. I thought it would be kinda neat for everyone to see inside my house. It's really cute and old and all mismatched furniture and decoration from different eras, thanks to my roommate, Alyssa, who's got great style and is super crafty. In fact, she just recently refinished the coffee table in the living room. To see her DIY you can go to her blog,
Love & Space
. Also, there are pictures of my bookcase, and my room, kitchen, etc. Just a couple glimpses. The outfit pictures are taken in my backyard (the sign is leftover from Alyssa's wedding photos. All you need is love! :)