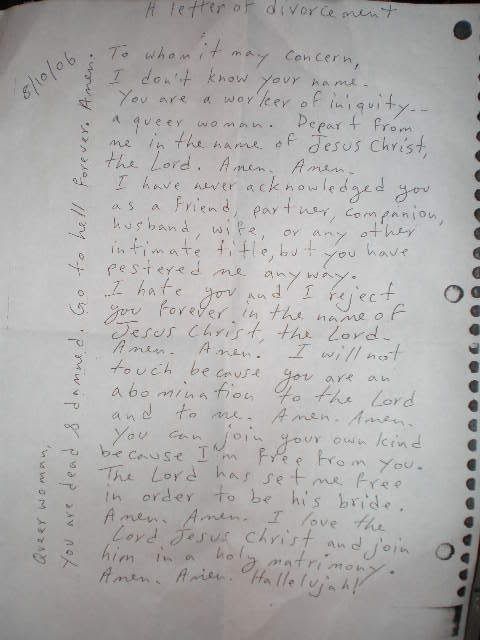 I like to write letters. I'm writing one right now. It's wonderfully old-timey. Past times are my favorite kind of time. I wish I had a quill and some parchment; or OR, even better, a typewriter. Which one should I get?
green typewriter
grey typewriter
black typewriter

The first(green) and the third(black) one I like best, but the second(grey) one is nice too, and it comes with a super cute yellowish case. If anything, I want to green one. Any way, to the right is a really great, absolutely mystifying letter of divorcement written by this crazy homeless woman that would frequent Book Soup and sit on the couch in the back while her "friend", to whom this letter was addressed to, slept on the other seat. (Click on it to read it).
I like to listen to music. Free music is nice. Get some
here
.
And lala was being dumb as usual today and it wouldn't load my playlist for some reason. Here it is, not quite in order, though. I'll try and have it up once lala stops being poopoo.
Wandering/Road Trippin'
1.back of a car - big star
2.strangers - the kinks
3.emitt rhodes - lullaby
4.running up that hill - kate bush
5.stephanie says - velvet underground
6.riding in my car - she & him
7.this time tomorrow - the kinks
8.unsatisfied - replacements
9.gypsy - fleetwood mac
10.why don't we do it in the road - the beatles
11.i can't quit you babe - otis rush
I'm taking to sleeping on the other side of the bed. It's been looking rather empty.